Updates at Thomas the Baker: Halloween, Fundraising & Facebook
Phew, we just keep getting busier and busier over here at Thomas the Baker! Well, it's to be expected in the run up to Halloween and Christmas – did you know that by the time you're just starting to think about Christmas around now, we've already got your Christmas puddings and cakes in production?
Anyway, spot that lovely lady in above? That's my sister Beth, according to the press release that's gone out to the news this week, the "smart cookie" who is the brains behind the business (no one told me!). She's been hard at work in the Confectionary department of the bakery recently helping to develop a few new products especially for her favourite time of year, Halloween, including these four handcrafted designs on shortbread biscuits that we're calling "Spcookies"! The four ghoulish designs are a mummified monster, spooky skull, petrifying pumpkin and a Munster.
But they're not all we're throwing into the ring for Halloween…after we noticed a few of our loyal customers missing a certain product and calling for their return this spooky season, we started up a bit of mini campaign to bring them back:
Want our #Halloween Bat Biscuits back on the shelves? RT this and we'll try to make it happen #BringBackBatBiscuits pic.twitter.com/x8B38F5cYe

— Thomas the Baker (@thomasthebaker) October 13, 2015
And it seems the #BringBackBatBiscuits hashtag went down a storm across both Twitter and Facebook as the ever loved Belgian chocolate Bat Biscuits are now successfully back on the shelves of our stores!
@thomasthebaker thank you – woooooo!! pic.twitter.com/Rn3ZfndK03

— Sarah G (@mymintnails) October 21, 2015
In other news, we like to do our bit for charities, both local and nationwide. So last week, the team at Bronco decided to take part in Wear It Pink day, a day in which, you guessed it, the nation was asked to dress in pink in order to raise money for Breast Cancer Now. We did our part by donating a few yummy treats as well as a beautifully pink themed hamper for a raffle to drum up the funds.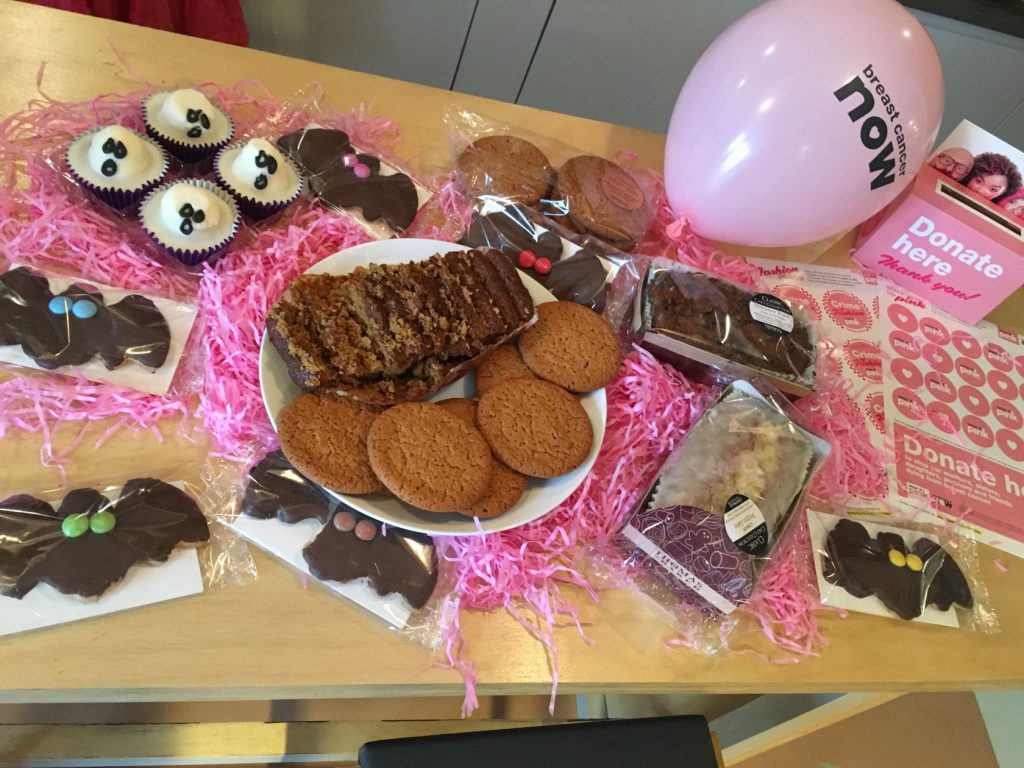 With the help of our Bat Biscuits, Ghostly Cupcakes, Ginger Snap Biscuits, Yorkshire Brack and Lemon Drizzle Cake, we managed to help Team Bronco push the total funds up for Breast Cancer Now to….(drum roll, please)….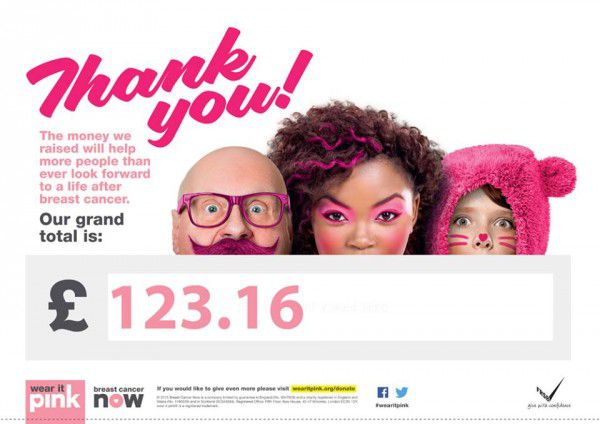 Excellent work! Now as we mentioned in passing before, we're working hard on our social media right now and would love to see you over there. Drop us a tweet or Like our page on Facebook – if it goes well enough, we'll soon be able to start sharing exclusive bits and pieces over on our social media just for our followers, looking forward to seeing you there!