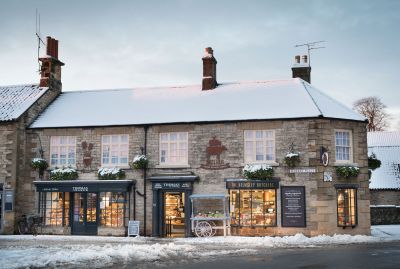 Some might think it's a little odd for a baker to run a butchers and delicatessen, but we do like a challenge! We're all about offering great tasting local produce, and when the opportunity arose to buy this great little shop in our home town of Helmsley, we just couldn't say no.
We've learnt a lot in the last 4 years about sausages and steak, fruit and vegetables, cheeses and pâté, and also a little about wine and beer; you really shouldn't sell something you haven't tried and tested yourself!
We have a fantastic team of knowledgeable and skilled master butchers, delicatessen assistants and even chefs on hand who are able to offer help and suggestions to create a really special meal. We have a broad range of varied and tasty products to offer and do our best to showcase the best of local produce. From locally sourced Yorkshire meats, our Great Taste Award winning Cumberland sausages and pies to our great range of specialist cheeses you won't be left short of choice.
Our chefs bake a wide range of our own fresh pies and hand-made sausage rolls daily; delicious honey roast hams, joints of beef and slow roasted belly pork are always a favourite. Our butchers are always on hand to offer helpful advice and chat about the best way to cook your joint, or what's the best marinade for your barbeque chicken or even just a good gossip (so long as you don't leave empty handed!).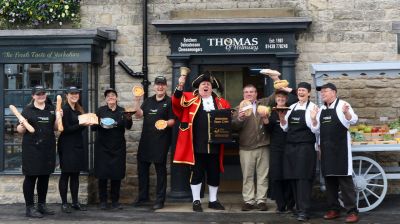 If you are not sure and want advice on which cheese to serve to your guests, our knowledgeable assistants are delighted to help - and a little taster will happily be offered! Just when you think you have seen it all, you might spot a local beer on the shelf that has been brewed in Helmsley – fancy that. Well worth a taste.
At the end of September 2017 following extensive building works and a full refurbishment. We proudly reopened following 9 months of major disruption for our extremely patient customers and team!
Not all went to plan during the building works. We discovered the building that had stood firmly for at least 150 years had no foundations and to our surprise had three cellars, not just the one we knew about. This resulted in a number of novel building and engineering solutions being put in place including underpinning, building underground supporting walls in the cellars and the total demolition and rebuilding of an entire two storey rear section of the building. We have now ensured that it won't collapse for many years to come!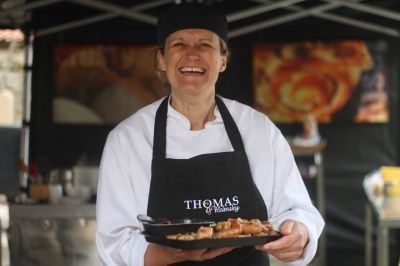 We re-opened in style with a Grand Opening hosted by celebrity chef, Steph Moon and Helmsley's own Town Cryer David Hind of Dad's Army fame, along with plenty of tasty samples and cooking demonstrations. We even had a visit from BBC Radio York whose Finders Keepers Treasure Hunt ended at Thomas of Helmsley with a rather dramatic race to the finish line, grabbing the final clue with less than 5 seconds to spare!
We added a smart new kitchen to the rear of the shop that has allowed us to develop a range of ready meals and product ideas with our chef, Trevor. It's also allowed us to prepare and sell an expanding range of deli products in our other Thomas the Baker shops such as the fabulous Black Pudding and Deli Sausage Rolls. Also our Award Winning Cumberland Sausage wrapped in flaky puff pastry with a generous dollop of locally produced caramelised red onion chutney! Not tried one yet, you don't know what you're missing.