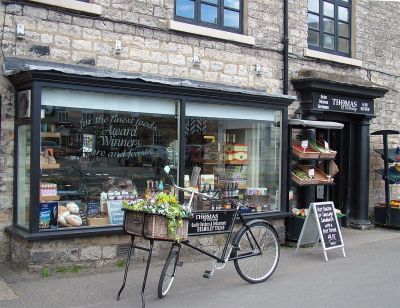 Some might think it's a little odd for a baker to run a butchers and delicatessen, but we do like a challenge! We're all about offering great tasting local produce, and when the opportunity arose to buy this great little shop in our home town of Helmsley, we just couldn't say no.
We've learnt a lot in the last 4 years about sausages and steak, fruit and vegetables, cheeses and pâté, and also a little about wine and beer; you really shouldn't sell something you haven't tried and tested yourself!
We have a fantastic team of knowledgeable and skilled master butchers, delicatessen assistants and even chefs on hand who are able to offer help and suggestions to create a really special meal. We have a broad range of varied and tasty products to offer and do our best to showcase the best of local produce. From locally sourced Yorkshire meats, our Great Taste Award winning Cumberland sausages and pies to our great range of specialist cheeses you won't be left short of choice.
Our chefs bake a wide range of our own fresh pies and hand-made sausage rolls daily; delicious honey roast hams, joints of beef and slow roasted belly pork are always a favourite. Our butchers are always on hand to offer helpful advice and chat about the best way to cook your joint, or what's the best marinade for your barbeque chicken or even just a good gossip (so long as you don't leave empty handed!).
If you are not sure and want advice on which cheese to serve to your guests, our knowledgeable assistants are delighted to help - and a little taster will happily be offered! Just when you think you have seen it all, you might spot a local beer on the shelf that has been brewed in Helmsley – fancy that. Well worth a taste.
Not sure what gift to buy for Mum's birthday or just a thank you for the next door neighbour who is looking after the cat while you are away enjoying yourself in sunny Yorkshire? We offer a hamper packing service where you can mix and match, or why not just give one of our team a budget, and they will handpick a great selection of Yorkshire goodies for you. Either way you won't be disappointed and neither will your friends!
"But will you keep it the same or will it all change?"
The butchers and delicatessen has been a feature in the corner of Helmsley's market place for three generations, so 'if it ain't broke, don't fix it!' And we intend to leave it well alone, however, that doesn't mean it couldn't do with a bit of a spruce up. Next year will see a super quality refurbishment, and it will be even better than before! The same fantastic range of products and great service (with perhaps one or two new ideas), but with some new counters and displays, and a well deserved lick of paint – watch this space!
Helmsley already has the reputation of being a fantastic place to visit, and was awarded 'Market Town of the Year' in 'The Great British High Street Awards' earlier this year. We feel privileged to be a part of this fantastic achievement, and hope that our delicatessen and butchers will help to keep Helmsley the 'go to' destination in the future.