Supporting Kidney Research UK in 2018
Each year, here at Thomas the Baker we choose a different charity to support. Last year, we raised money for the Alzheimer's Society (and will soon be able to announce the final figure for the year at the end of April) with campaigns such as our Forget Me Not cupcakes, collections in store and more. You can see some more examples of our previous charity work here and here.
We're proud to announce that this year, Thomas the Baker have chosen to support Kidney Research UK, and for a number of very good reasons, one of which is very close to our hearts. Read on to find out why, with a few facts and a story from someone who has been directly affected by the work they do:
Kidney Research UK are a much smaller charity than those we have supported in the past, and as such, don't get nearly as much publicity. They are thrilled that we'll be supporting them this year.
Did you know that there 3 million people in the UK with kidney disease right now and that there is no known cure?
The kidney research charity relies almost wholly on the generous donations of the UK public. Through these donations they have been able to fund breakthroughs in diagnosis, treatment and patient care of those affected by kidney disease. But much more needs to be done as there are no known cures only life extending treatments such as dialysis or a transplant for which there is a huge shortage of donor kidneys available.
Kidney disease can affect any person from any background at any age.
Mr X's Story
In 2003 Mr X, 43, went to his local doctors to see the nurse for his annual asthma check and was told that he had high blood pressure which needed further investigation. Before he knew it he was having a scan at the hospital and was told by a doctor that he had something called Autosomal Dominant Polycystic Kidney Disease.
This was just one of many different kidney diseases; this kind causes cysts to grow on the inside of the kidneys which slowly but surely decreases the function of the kidneys until they stopped working altogether.
At that point Mr X's life completely changed: regular hospital visits, endless blood tests, questionnaires about mental and physical well being, changes in diet, talks about dialysis and the different options available, and also the discovery that the same disease had led to the death of his own father when he was 7. The term 'Autosomal Dominant' means that the disease is a hereditary one and only affected the males in a family.
All the time this was going on, his own kidney function was decreasing until it reached 7% which meant he had to go on dialysis. He chose to have peritoneal dialysis which meant he was able to do it himself after some training and an operation to insert a tube into his stomach which left a foot long piece of tubing on the outside of his stomach. Through this he was able to attach himself to a machine which fed in and took out dialysis fluid for 10 hours each night, every night. There were other difficulties along the way, restriction of fluid intake, restriction on diet but the most serious being a bout of peritonitis which was extremely painful and happened when the entry wound around the tube became infected. This then had to be removed and a new one put in at a different location in the stomach. During this, Mr X carried on working and tried to have as normal a life as possible.
In 2009 having spent 3 years on dialysis he got the call for a transplant and once again life changed. A week after the transplant he was home and a week after that he was back in hospital again having suffered a couple of heart attacks. Slowly but surely he recovered and, apart from the hospital visits, the regular blood tests and the tablets, life is as normal as could be apart from one thing: his transplanted kidney is 9 years old now and the average life for a transplanted kidney is 10-15 years. So there is always that nagging doubt in his mind that any day soon that kidney will fail which is why the research and development must go on.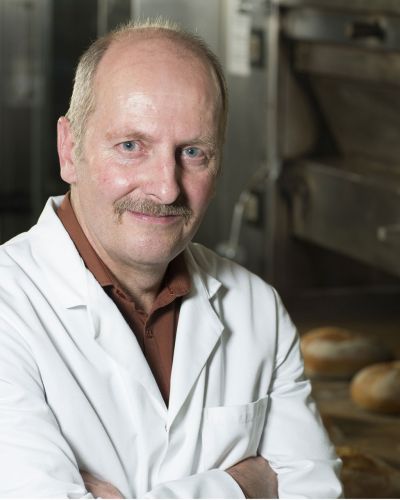 How do we know all this? Mr X is none other than our very Chris Chapman. He doesn't usually talk to people about it because he's never sure people want to listen to someone droning on about their illnesses, but in this case it seems appropriate. He goes 2 to 3 times per year to the York Hospital Renal Unit to speak to groups of people who are close to renal failure and need to make the decision on what type of dialysis to choose. He's also been to York University with one of his ex-dialysis nurses to speak to over 100 student nurses about his experiences.
Chris has personally supported Kidney Research UK for a number of years, all the while dedicating himself to his working life at Thomas the Baker. We feel that it's hugely important to recognise what is important to our team, and this is clearly one of those occasions, which is why we're so happy to be able to announce our support for Kidney Research UK over the next year.
How can you get involved?
There are loads of different ways you can help to support Kidney Research UK, whether that's getting involved in participating in an organised event, organising one yourself, purchasing a £1 badge or wristband, or even just dropping your loose change into one of our collection tins. We'll be designing a product similar to our Forget Me Not cupcakes from last year where a portion of the price will go directly to Kidney Research UK. We'll also be organised a sponsored walk and potentially some quizzes with proceeds going to Kidney Research UK.
You can find out more about their work and how you can get involved here: https://www.kidneyresearchuk.org/