How to bake focaccia at home
As our last baking at home video went so well, we've decided to share another! Today we're guiding you through the process and recipe to make focaccia, a traditional flat Italian bread that's beautifully crisp on the outside and soft and pillowy inside.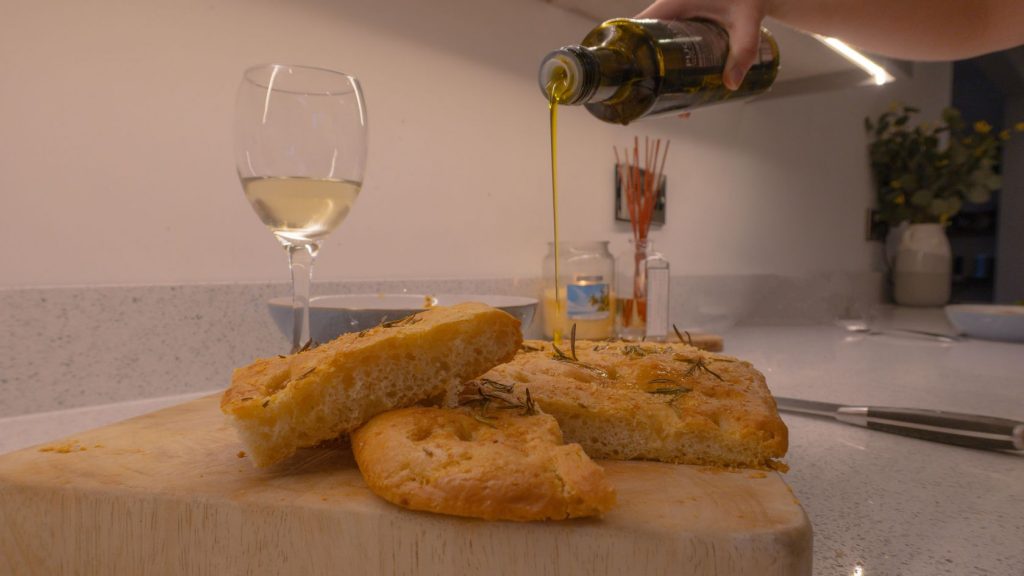 Focaccia makes an excellent side dish to any Italian dish – pasta, charcuterie meats, good cheese and olives, and it can be even be used to make a sandwich too. And of course, it's always best with a crisp glass of Pinot Grigio! The beauty of focaccia is that it can be finished with toppings of your choice – similar to pizza, but looks much fancier to impress your friends at dinner parties! Our recipe here uses sprigs of rosemary, fresh from the garden, and grated parmesan, but below is a list of other ideas you can use by themselves or combine for a super tasty bread:
Olives
Cherry tomatoes
Sun dried tomatoes
Parma ham
Dried Tuscan herbs
Garlic
Infused olive oils
Artichokes
Caramelised onions
Sautéed mushrooms
Roasted Mediterranean vegetables
Sea salt & coarse ground black pepper
This recipe for focaccia is a good one for those of you baking bread at home for the first time. It's important to use a good flour – here we've used an Italian '00' Flour which is a strong white finely milled flour with most of the bran and germ removed. This is currently available to buy in our stores in 1kg bags. We've also started selling our dried yeast, which is used in this recipe in our stores too – see more about how to use and activate dried yeast in our recent short video here.
And finally onto the recipe! Sian has put together another video taking you through the process of baking focaccia at home: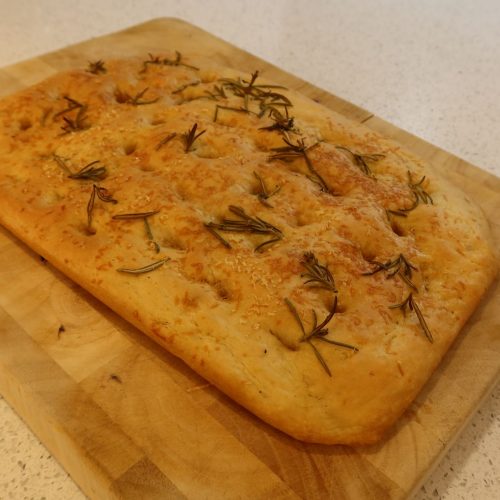 Homemade Focaccia
A simple recipe for this homemade traditional Italian flat bread.
Ingredients
500

g

Thomas' Authentic Italian '00' flour

10

g

dried yeast

340

g

warm water

0.5

tsp

sugar

9

g

salt

60

g

extra virgin olive oil

plus extra to drizzle
Instructions
Take around a cup full of the warm water from the above recipe and sprinkle in the dried yeast, (you can add a little sugar to help the yeast, approx. half teaspoon), cover over and leave in a warm place for around 10 to 15 minutes. You should see a little foam on top, it's now ready to be used. 

Place all the ingredients into a mixing bowl and mix with a dough hook for around 10 to 12 minutes on slow speed, or mix vigorously by hand for a similar amount of time (or as long as you can keep going!).

Generously drizzle Extra Virgin Olive Oil to cover the sides and bottom of a bowl at least double the size of the dough piece. Place the dough in the bowl and cover over with a damp tea towel or clingfilm. Leave for at least 1 hour in a warm place until it roughly doubles in size until it nearly touches the cover – don't worry if it takes half an hour longer, it's all adding to a great taste and texture!

Remove from the bowl onto a lightly floured surface and 'knock the dough back' – work it for around 30 seconds. Split the dough into two equal sized pieces and shape into a rough ball. Cover over and leave it to relax for about 10 minutes while you prepare your baking tins.

Drizzle a generous amount of Extra Virgin Olive Oil into your baking pan ensuring the whole of the bottom and sides are covered. The pans need to be somewhere around 30cm long and 20 cm wide (12 x 8 inches) and about 6cm deep (2 and A half to 3 inches). The pan can be a bit smaller, but the Focaccia will end up deeper and taller. 

Pour some Extra Virgin olive onto your work surface and on the dough, then press it out to roughly the size of the tin. Place in the tin and tease out to the sides being careful to try to keep an even thickness overall.

Cover the tin with a damp tea towel or cling film and place in a warm place and leave to rise. This will take at least 45 minutes and could take up to an hour and a half depending on room temperature. The dough should roughly double in size. Tip – when the dough is fully proved, if you press with your finger it will leave an indent and not spring back.

Remove the film / cloth. Dip your fingers in olive oil then press your fingers in at around 1 inch spacings, then a good drizzle again with Extra Virgin olive oil.

Garnish the top of the dough with whatever takes your fancy – olives, cherry tomatoes, sprigs of rosemary, sea salt, coarse ground black pepper, grated Parmesan, Parma ham, dried Tuscan herbs, fresh herbs, garlic, infused oils, artichokes, caramelised onions, sautéed mushrooms or anything else you fancy from the fridge.

Place in the middle of a pre-heated oven at 210c / 410f / gas mark 6. Reduce temperature by around 10 degrees if using a fan oven. Bake for around 15 to 20 minutes until golden brown on top. Check underneath to make sure its golden brown on the bottom, give an extra 3 or 4 minutes if necessary. And enjoy!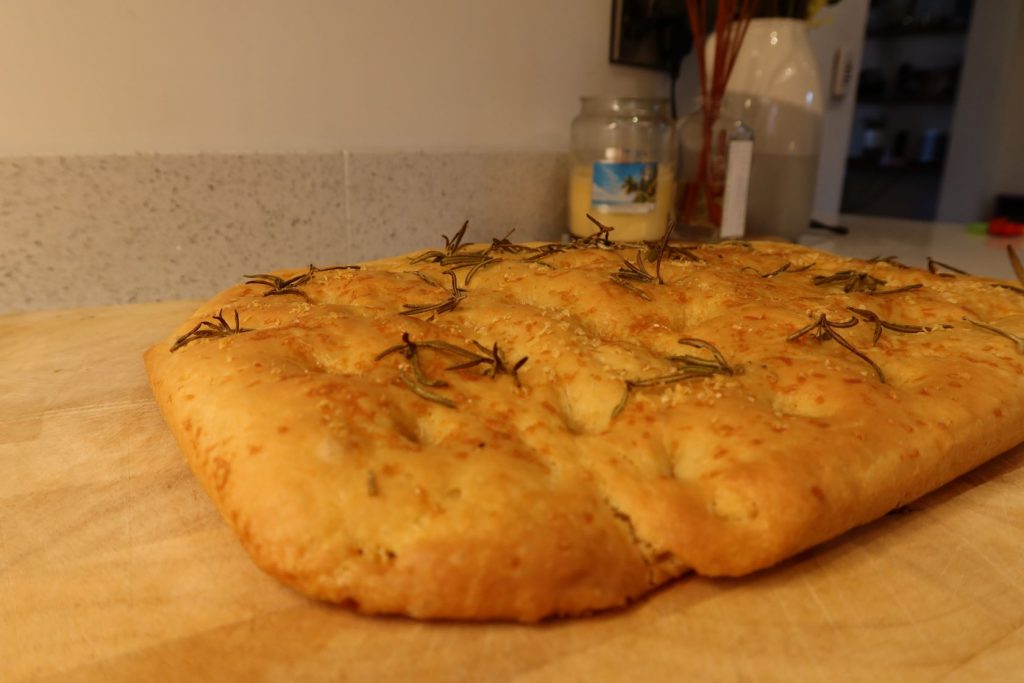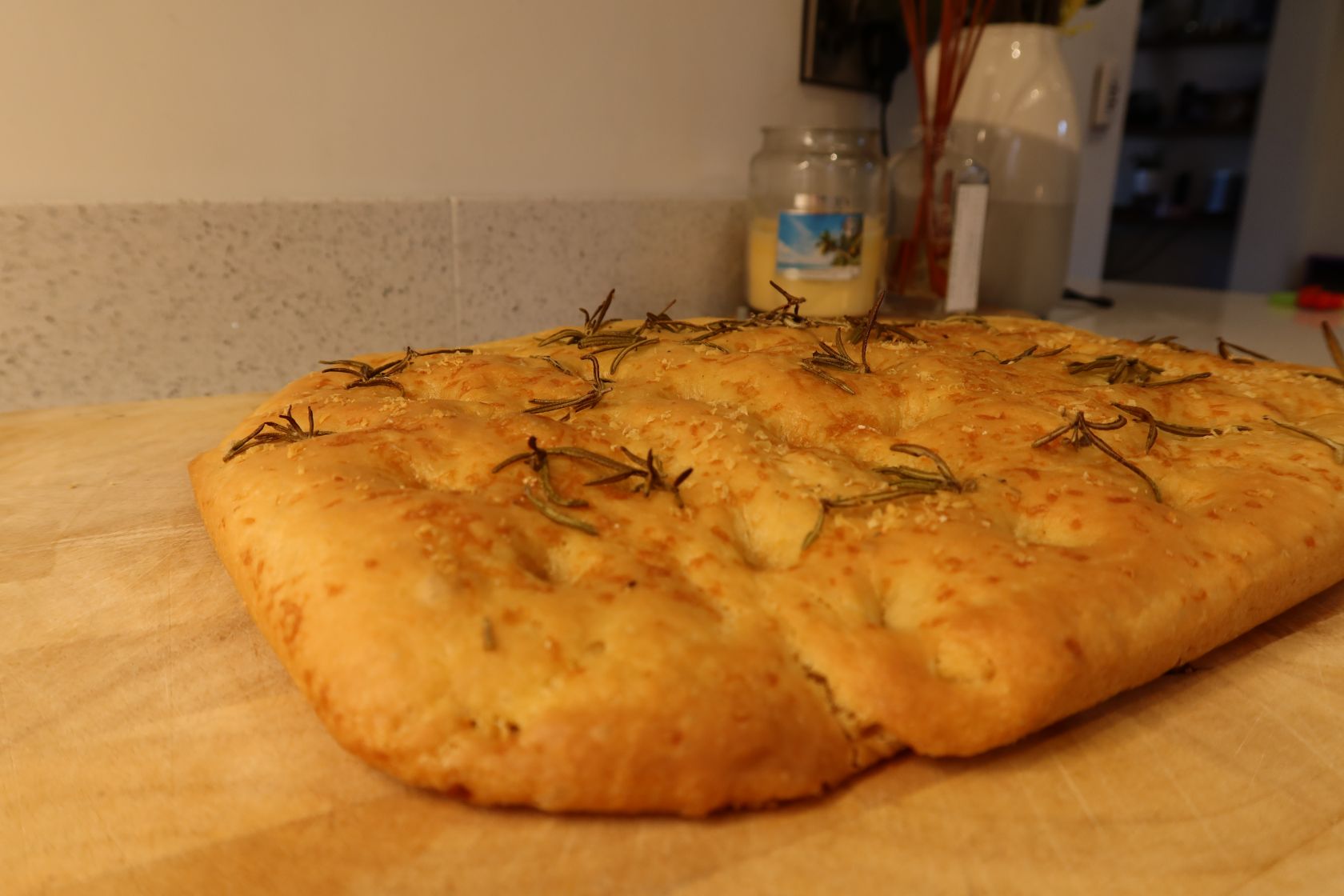 Simon Thomas, general manager at Thomas the Baker, shares his wisdom from years of baking experience:
"My top tip for baking focaccia is to make sure you have good flour, Italian '00' flour is best, and good olive oil – make sure to taste the latter first to make sure you like it, as you'll be using lots of it in this recipe!
"Second, don't be scared of the dough feeling quite wet and very soft, this will result in a more traditional focaccia with an excellent texture and taste."