Christmas Jumper Day with Team Bronco
As you might know, the voice behind this blog is Simon Thomas' daughter, Sian – while I don't currently work in the family business (I spent my school holidays doing that and wanting to eat everything!), I do help out with the blog and social media. But my day to day job is at a Digital Marketing Agency in Ripon, Bronco.
Today is Christmas Jumper Day with Save the Children UK (#ChristmasJumperDay) so we decided that we would team up to our bit to support the charity. Everyone at Bronco turned up to work today in various styles of Christmas jumpers (take a look here for some close ups and to read more about it!) and Thomas the Baker donated a few of our favourite Christmas treats in order to help raise some money for the charity – Mince Pies, Tipsy Imps and Christmas Truffles. Many people in the office donated a few pounds to get some tasty treats, and Hannah and I took them round the Business Park that Bronco is situated on to see what we could do. Fortunately, they went down very well and we were out of almost everything by the end of the day!
We've been getting people talking on Twitter all day about it, so see below for some of those tweets and a few pictures of the team in our Christmas Jumpers!
If you'd like to donate now, please text TEAMBRONCO to 70050 to send £2 to Send the Children UK.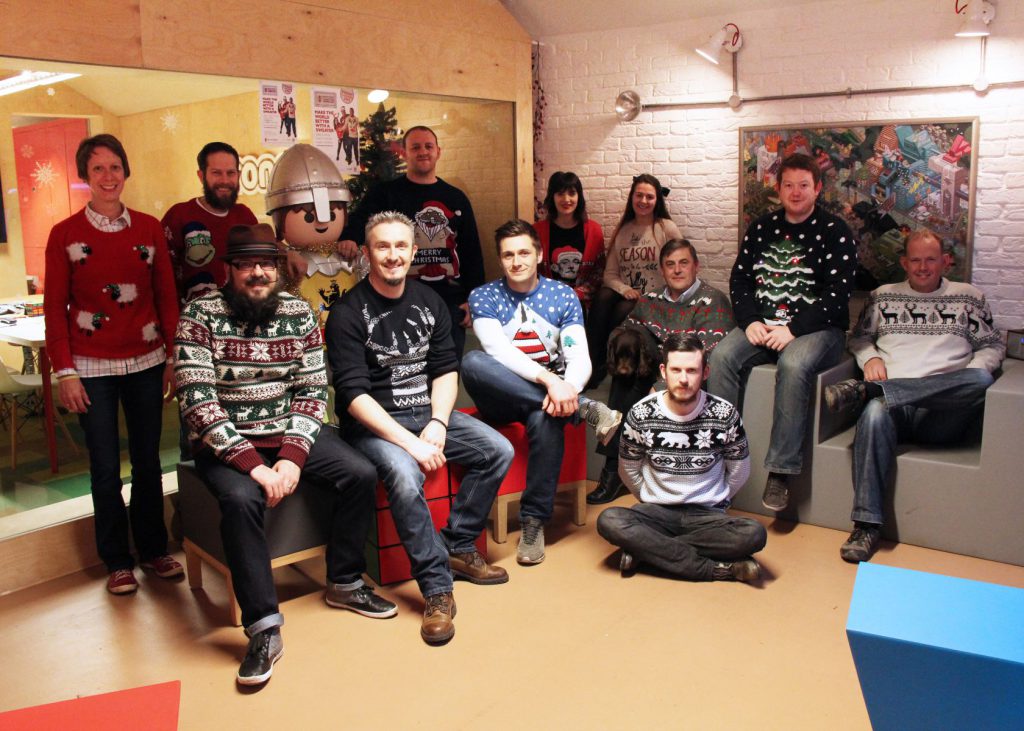 just had the BEST mince pie EVER ( sorry mum ) @thomasthebaker brandy butter topped ….

— Dave Naylor (@DaveNaylor) December 12, 2014
Today we supported @Bronco for #ChristmasJumperDay with @savechildrenuk with some festive treats! pic.twitter.com/LhOSCURCVI

— Thomas the Baker (@thomasthebaker) December 12, 2014
We're sharing Christmas treats from @thomasthebaker around the business park for @savechildrenuk today! http://t.co/9AfTSTkokK #XmasJumper

— Sian Thomas (@RebelAngelBlog) December 12, 2014
We at TEAMBRONCO @Bronco are getting into Christmas Jumper Day! #ChristmasJumperDay in support of @savechildrenuk pic.twitter.com/wpjWzSfHbe

— Hannah Corlett (@Hannah_Corlett) December 12, 2014
@princesspinkpaw @Bronco BILLiant! Have an amazing #XmasJumperDay

— Save the Children UK (@savechildrenuk) December 12, 2014
We at TEAMBRONCO @Bronco are getting into Christmas Jumper Day! #ChristmasJumperDay in support of @savechildrenuk pic.twitter.com/euu19PZCMI

— Sian Thomas (@RebelAngelBlog) December 12, 2014

(That's me!)
We at TEAMBRONCO @Bronco are getting into Christmas Jumper Day! #XmasJumperDay in support of @savechildrenuk pic.twitter.com/eMJnW84nML

— Alex Graves (@AGr4ves) December 12, 2014
We @Bronco are getting into #ChristmasJumperDay! Please donate & text TEAMBRONCO to 70050 supporting @savechildrenuk pic.twitter.com/Utu92mikCw

— Adam (@AdamLewin) December 12, 2014
We at TEAMBRONCO @Bronco are getting into Christmas Jumper Day! #ChristmasJumperDay in support of @savechildrenuk pic.twitter.com/vB925OSYma

— stewart corlett (@StewartCorlett) December 12, 2014
We at TEAMBRONCO @Bronco are getting into Christmas Jumper Day! #XmasJumperDay in support of @savechildrenuk pic.twitter.com/42U4RlCrDJ

— Craig Addyman (@CraigAddyman) December 12, 2014
Supporting Christmas Jumper day @bronco pic.twitter.com/NXnw2YqB9P

— Becky (@BeckyNaylor) December 12, 2014