Thomas the Baker Christmas Hamper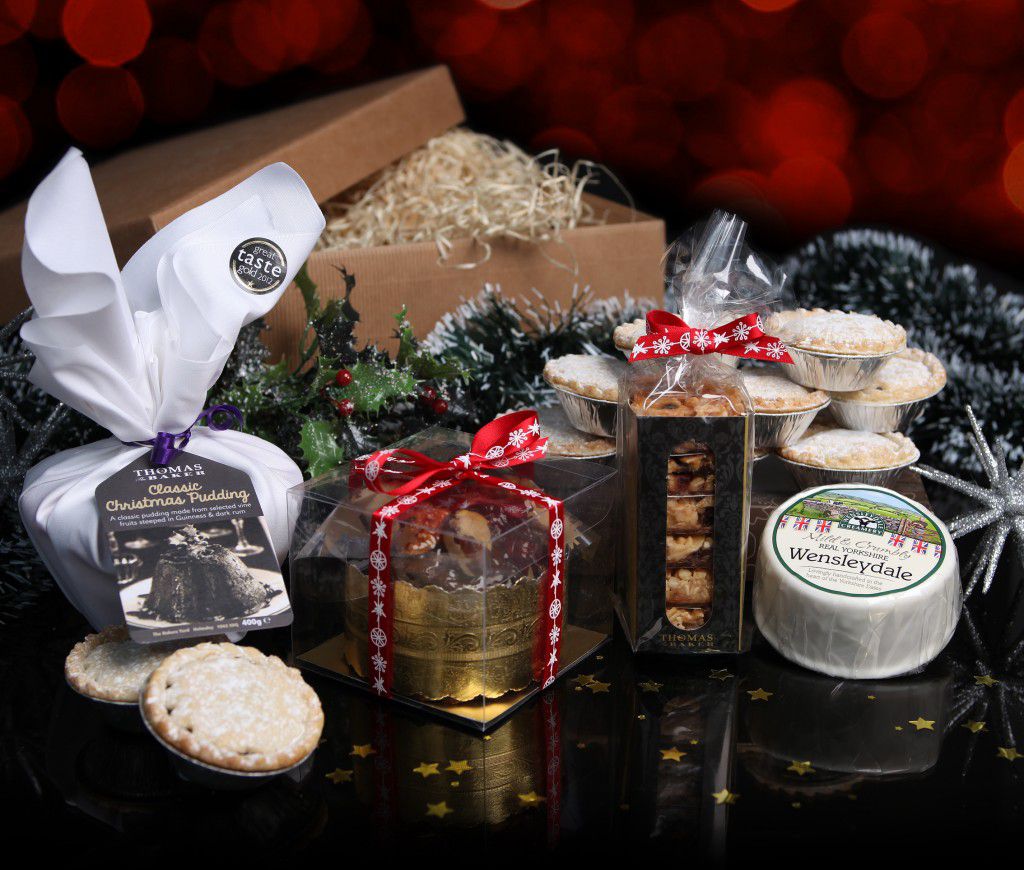 I've mentioned before how busy the festive time of year is around Thomas the Baker, and we just like to make it a little bit more busy for ourselves! We're currently putting together a luxury Christmas hamper that we just know you'll love. This includes a good sampling of our yummy Christmas products including:
2 boxes of 6 award winning mince pies. If you remember from a recent post, these came out top in a taste test by Good Housekeeping magazine, even outshining the likes of Marks and Spencer, Bettys and Harrods.
1 Luxury Christmas Pudding. This has also won several awards, including the prestigious Gold Star at the Great Taste Awards.
1 small hand decorated fruit cake made to a deliciously moist recipe and topped with french glace cherries, walnuts and brazil nuts.
Traditional waxed real Yorkshire Wensleydale cheese with a mild taste and crumbly texture. In Yorkshire, it's a local tradition to serve your Christmas cake with a slice of Wensleydale, just like in Wallace and Gromit: 'What's wrong with Wensleydale?!'
Luxury Florentines. These are an indulgent treat made with fresh cream, flaked almonds, butter, soft brown sugar, glace cherries, vine fruits and topped off with Belgian chocolate.
 If you can't decide what to buy for a friend or relative this year for Christmas, this is the perfect treat. Priced at only £30 (which includes the postage!) on the website, and £24 if you collect in store, it won't break the bank but will certainly show that you care. You will be able order it from the website to be delivered directly as a gift, and choose to add your own personal Christmas message. Or if you're able to pick it up, you can order and collect it from any of our stores. You can always give the individual shop or the bakery a call beforehand to order it in so you only need to make the trip to pick it up on the day.
If you do decide to order one of our Christmas Hampers for yourself or a friend, let us know what you think of it! I know my favourite is the florentines, but I do love a bit of Wensleydale cheese too (even by itself!).