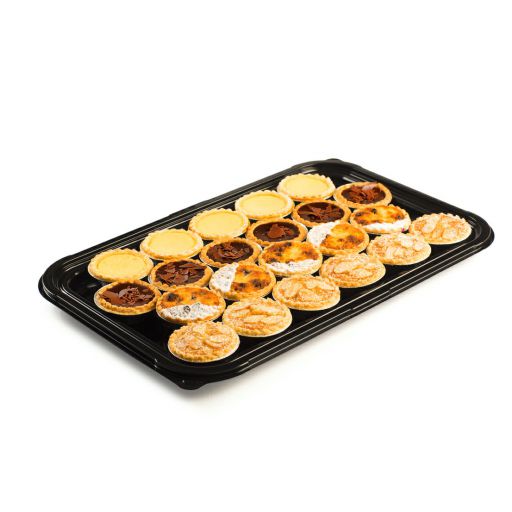 Tasty Tarts Platter
64g / 2.26oz
Luscious chocolate orange ganache, and our unique blackcurrant twist on our award winning curd tarts means you're in for a real treat with these freshly baked delicacies.
About our Tasty Tarts Platter
Get your just desserts with 22 of our famously crispy shortcrust Tarte au Citron, Belgian Chocolate and Orange Ganache, Blackcurrant Curd and Bakewell Tarts. The perfect touch to afternoon tea with friends or summer picnic with the family.
Allergens
(Tree) Nuts, Eggs, Gluten, Milk, Soya, Sulphites
Nutritional Information
| Typical Values | per 100g |
| --- | --- |
| Energy | 1732kj / 414cal |
| Fat | 25g |
| Saturates | 12g |
| Carbohydrate | 38g |
| Total sugars | 19g |
| Protein | 6.6g |
| Salt | 0.4g |
Ingredients
Choc Orange Tart, Blacurrant Curd Tart, Bakewell Tart, Tarte au Citron;
Bakewell Tart contains: Wheat Flour [Wheat Flour, Calcium Carbonate, Iron, Niacin(B3), Thiamine(B1)], Sugar, Egg, Vegetable Oil (Palm, Rapeseed), Water, Butter (Milk), Ground Almonds, Raspberry Jam [Raspberry Puree, Glucose Syrup, Sugar, Gelling Agent: E440a; Acidity Regulators: E330, E331c; Flavouring, Colour: E163;], Blanched Flaked Almonds, Salt, Emulsifier: E475; Flavouring; Raising Agent: E450, E500; Colour: E160b, E100;
Blacurrant Curd Tart contains: Curd [Milk, Acid: E260], Wheat Flour [Wheat Flour, Calcium Carbonate, Iron, Niacin(B3), Thiamine(B1)], Vegetable Oil (Palm, Rapeseed), Water, Sugar, Blackcurrants, Egg, Currants, Ground Rice, Glucose, Cornflour, Salt, Emulsifier: E475; Flavouring; Colour: E160b, E100;
Choc Orange Tart contains: Chocolate [Cocoa Mass, Sugar, Cocoa Butter, Whole Milk Powder, Emulsifier: Soy Lecithin (E322); Natural Vanilla Flavouring], Wheat Flour [Wheat Flour, Calcium Carbonate, Iron, Niacin(B3), Thiamine(B1)], Cream (Milk), Vegetable Oil (Palm, Rapeseed), Water, Sugar, Egg, Glucose Syrup, Gluecose-fructose Syrup, Flavouring, Orange Juice, Salt; Emulsifier: E122, E475; Gelling Agent: E440(i); Natural Colouring, Colour: E160b, E100; Acid: E260;
Tarte au Citron contains: Wheat Flour [Wheat Flour, Calcium Carbonate, Iron, Niacin (B3), Thiamine (B1)], Chocolate [Sugar, Cocoa Butter, Whole Milk Powder, Cocoa Mass, Emulsifier: Soy Lecithin (E322): Natural Vanilla Flavouring.], Vegetable Oil (Palm, Rapeseed), Water, Cream (Milk), Lemon Juice [Lemon Juice, Preservative; E224] (Sulphites), Sugar, Egg, Glucose, Cornflour, Salt, Emulsifier: E475; Flavouring; Colour: E160b, E100;