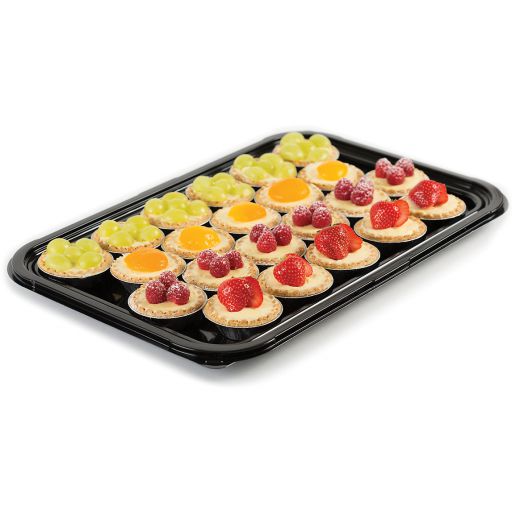 Fruit Fancies Platter
66g / 2.33oz
22 perfect fruit pastries filled with creme patissiere to share and enjoy with your friends.
About our Fruit Fancies Platter
Creamy custard is encased inside our crispy sweet pastry shells, and topped with fresh strawberries, grapes and raspberries. Whether it's a picnic in the park or afternoon tea, you will guarantee to have plenty of friends with these perfect pastries.
Nutritional Information
| Typical Values | per 100g |
| --- | --- |
| Energy | 1244kj / 297cal |
| Fat | 18g |
| Saturates | 9.9g |
| Carbohydrate | 23g |
| Total sugars | 11g |
| Protein | 2.9g |
| Salt | 0.3g |
Ingredients
Grape Fruit Fancy, Apricot Fruit Fancy, Strawberry Fruit Fancy, Raspberry Fruit Fancy;
Strawberry Fruit Fancy contains: Cream (Milk), Wheat Flour [Wheat Flour, Calcium Carbonate, Iron, Niacin(B3), Thiamine(B1)], Strawberries, Water, Milk Powder, Vegetable Oil (Palm, Rapeseed), Water, Sugar, Egg, Salt, Flavouring, Dried Beetroot Juice, Thickener: E401; Emulsifier: E475; Stabiliser: E450, E401; Colour: E160b, E160a, E100;
Raspberry Fruit Fancy contains: Cream (Milk), Wheat Flour [Wheat Flour, Calcium Carbonate, Iron, Niacin(B3), Thiamine(B1)], Raspberries, Water, Milk Powder, Vegetable Oil (Palm, Rapeseed), Water, Sugar, Egg, Salt, Flavouring, Dried Beetroot Juice, Thickener: E401; Emulsifier: E475; Stabiliser: E450, E401; Colour: E160b, E160a, E100;
Apricot Fruit Fancy contains: Apricot, Cream (Milk), Wheat Flour [Wheat Flour, Calcium Carbonate, Iron, Niacin(B3), Thiamine(B1)], Water, Milk Powder, Vegetable Oil (Palm, Rapeseed), Water, Sugar, Egg, Glucose-Fructose Syrup, Sugar, Salt, Flavouring, Dried Beetroot Juice, Thickener: E401; Firming Agent: E569; Emulsifier: E475; Stabiliser: E450, E401; Flavouring; Colour: E160b, E160a, E100;
Grape Fruit Fancy contains: Grape, Cream (Milk), Wheat Flour [Wheat Flour, Calcium Carbonate, Iron, Niacin(B3), Thiamine(B1)], Water, Milk Powder, Vegetable Oil (Palm, Rapeseed), Water, Sugar, Egg, Salt, Flavouring, Dried Beetroot Juice, Thickener: E401; Emulsifier: E475; Stabiliser: E450, E401; Colour: E160b, E160a, E100;