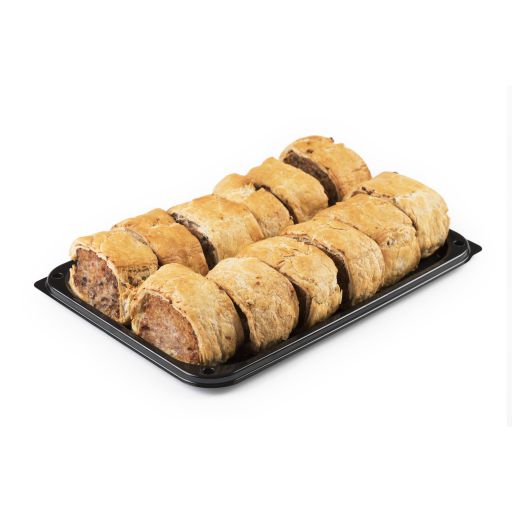 Deli Sausage Rolls Platter
216g / 7.62oz
Our Master Butchers have been busy hand crafting these ample offerings for your approval. Wrapped in flaky puff pastry and baked freshly throughout the day you won't be left feeling hungry!
12 Portions.
About our Deli Sausage Rolls Platter
Crafted by our Award Winning Master Butchers using Prime Pork Shoulder and a smidgen of herbs and spices, these hearty offerings won't disappoint your hungry guests. A tasty mix of six Seasoned Sausage and six Sausage and Black Pudding Rolls.
Allergens
Gluten, May Contain a trace of: Sulphites
Nutritional Information
| Typical Values | 100 |
| --- | --- |
| Energy | 962kj / 230cal |
| Fat | 16g |
| Saturates | 7.1g |
| Carbohydrate | 11g |
| Total sugars | 0.5g |
| Protein | 11g |
| Salt | 1.4g |
Ingredients
Seasoned Sausage Roll: Pork(46.5%), Water, Wheat Flour [Wheat Flour, Calcium Carbonate, Iron, Niacin(B3), Thiamine(B1)], Vegetable Oil (Palm, Rapeseed), Herbs (Sage, Marjoram, Thyme), Salt, Maltodextrin, Modified Starch, Dextrose, Fructose, White Pepper, Colour: E160a, E150a; Flavouring; Flavour Enhancer: E621; Preservative: E221; Antioxidant: E301; Emulsifier: E450(i), E471; Antioxidants: E301; Preservatives: Sodium Sulphate(E221), Anticaking Agent: E535; Raising Agent 503(ii);
Black Pudding Sausage Roll: Pork(40.2%), Water, Wheat Flour [Wheat Flour, Calcium Carbonate, Iron, Niacin(B3), Thiamine(B1)], Vegetable Oil (Palm, Rapeseed), Pork Rind, Barley, Onion, Herbs (Sage, Marjoram, Thyme), Salt, Maltodextrin, Modified Starch, Dextrose, Fructose, White Pepper, Spice Extracts (Pepper, Mace, Chilli), Dried Albumin, Flavouring, Colour: E160a, E150a; Flavour Enhancer: E621; Preservative: E221; Antioxidant: E301; Emulsifier: E450, E471; Antioxidants: E301; Preservatives: Sodium Sulphate(E221), Anticaking Agent: E535; Raising Agent: 503(ii);