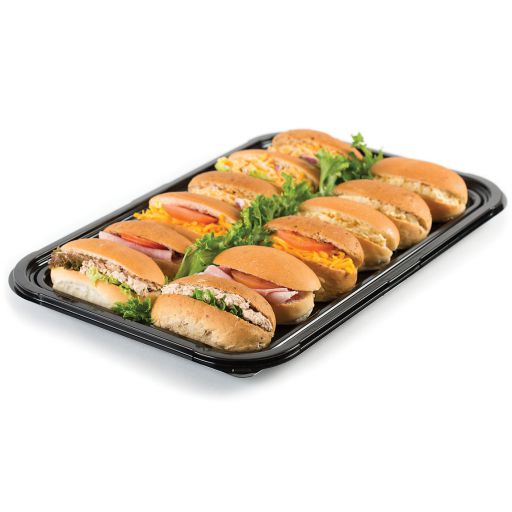 Bridge Roll/Sub Sandwich Platter
125g / 4.41oz
Planning a working lunch, or a family party, these tasty sub rolls are perfect for any occasion.
About our Bridge Roll/Sub Sandwich Platter
Our Bridge Buns are ready to roll, with a mixture of 12 Ham and Tomato, Egg Mayo, Cheese and Tomato, Cheese and Red Onion and Tuna fillings. Made with our own soft bread rolls fresh from the oven first thing this morning and packed with delicious locally sourced ingredients.
Allergens
Eggs, Fish, Gluten, Milk, Soya
Nutritional Information
| Typical Values | per 100g |
| --- | --- |
| Energy | 894kj / 213cal |
| Fat | 13g |
| Saturates | 4.7g |
| Carbohydrate | 16g |
| Total sugars | 2.3g |
| Protein | 8.5g |
| Salt | 0.7g |
Ingredients
Harvester Bridge Roll: Malt Flake Wheat Flour [Wheat Flour, Calcium Carbonate, Iron, Niacin (B3), Thiamin (B1)] Malted Wheat, Kibbled Wheat, Malted Barley, Water, Vegetable Oil, Sugar, Yeast, Improver [E516, E170, Soya Flour, Wheat Flour (Calcium Carbonate, Iron, Thiamine, Nicotinamide.), Emulsifier: E472e (Rapeseed.), E300], Salt, Crumb Softner [Water, Emulsifiers (E471, E472e), Acidity Regulator (E260, E525)], Milk Powder, Gluten
White Bridge Roll: Wheat Flour [Wheat Flour, Calcium Carbonate, Iron, Niacin (B3), Thiamin (B1)], Water, Vegetable Oil, Sugar, Yeast, Improver [E516, E170, Soya Flour, Wheat Flour (Calcium Carbonate, Iron, Thiamine, Nicotinamide.), Emulsifier: E472e (Rapeseed.), E300], Salt, Crumb Softner [Water, Emulsifiers (E471, E472e), Acidity Regulator (E260, E525)], Milk Powder
Cheese & Red Onion Filling: Cheese (Milk), Red onion, Iceburg Lettuce, Vegetable Spread [Vegetable Oils and Fats (67%), Water, Milk Solids, Salt (1%)]
Egg Mayo Filling: Egg, Mixed leaves, Mayonnaise [Rapeseed Oil, Egg, Water, Spirit Vinegar, Sugar, Salt, Lemon Juice, Flavouring, Antioxidant (Calcium Disodium EDTA), Paprika Extract], Vegetable Spread [Vegetable Oils and Fats (67%), Water, MilkSolids, Salt (1%)]
Tuna Mayo Filling: Tuna (Fish), Mixed Leaves, Mayonnaise [Rapeseed Oil, Egg, Water, Spirit Vinegar, Sugar, Salt, Lemon Juice, Flavouring, Antioxidant (Calcium Disodium EDTA), Paprika Extract], Vegetable Spread [Vegetable Oils and Fats (67%), Water, Milk Solids, Salt (1%)]
Ham & Tomato Filling: Tomatoes, Ham, Vegetable Spread [Vegetable Oils and Fats (67%), Water, Milk Solids, Salt (1%)]
Cheese & Tomato Filling: Tomatoes, Cheese (Milk), Vegetable Spread [Vegetable Oils and Fats (67%), Water, Milk Solids, Salt (1%)]